Gentle Exfoliator for Sensitive Skin - 100% Natural
Customer Reviews
Write a Review
Ask a Question
05/18/2020
Chantal A.
United States
Best Exfoliator!
I have noticed such a difference after using this product for a little over a week now! My skin feels so soft, my pores aren't as noticeable and my skin looks extra glowy. I also love how gentle it is compared to other exfoliants! I definitely recommend this product.
04/16/2020
Penny
United States
It's like a booster
My skin texture instantly became brighter, tighter, smoother after first time use. Pretty amazing product with only botanical ingredients. I use it 2-3 time weekly. This is my new favorite routine to keep my skin looks healthy. Each time of use worths $100 spa facial treatment to me.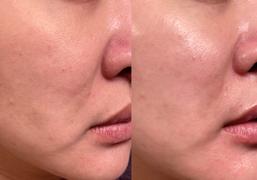 04/13/2020
Dorothy
United States
Definitely for sensitive skin!
My skin is super sensitive! Even I use some brands who claim they are natural, I will still have breakout when my skin DETECTS chemical ingredients. The first time I used this product I felt little sting and a bit redness in the beginning... Surprisingly, it didn't give me any issue afterward. In fact, my skin felt much smoother and tighter right after one use :) Highly recommended!!
04/11/2020
Lane
United States
This stuff is awesome
I use the SLegend cleanser first b4 I shave then I always forget to use this amazing exfoliator b4 I get in the shower. As soon as I get in the shower I remember, so I turn off the shower and step out, SOAKING WET, and apply this stuff because I love the way it leaves my skin, perfect every time!
02/29/2020
Ray
United States
Awesome product!
I like the their packaging and foaming idea for exfoliating. This product smells so natural~ Feeling organic and luxury :) I recommend to buy a larger bottle since you may end up using it so often.