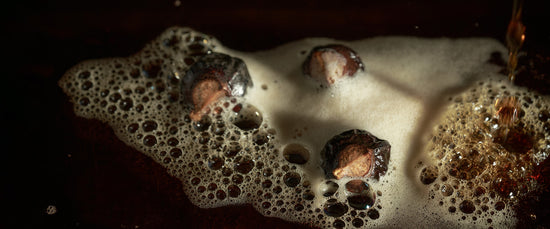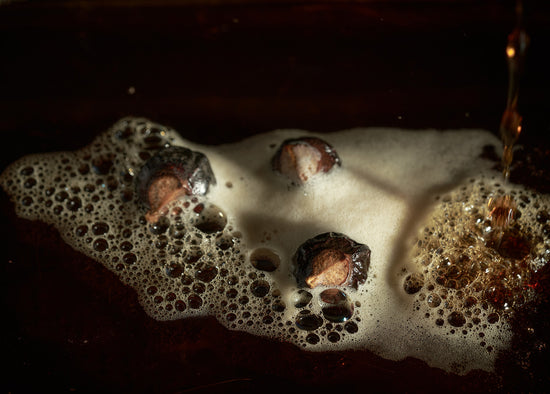 What are the Benefits of Soapberries?

The Compendium of Materia Medica, along with various Chinese medical scripts, various medical studies and clinical trials, reports that soapberries provide several beneficial effects for humans and animals. The most common are: relief for skin diseases, dandruff, fat leakage dermatitis, mange, acne, pimples, comedo, dust mites allergies, block sore, rosacia, and various skin diseases caused by excess sebum secretion. In addition, soapberry products strengthen hair; reducing breakage and hair loss, and continuous use can result in healthier, shinier hair, and smoother, softer skin.
Are Soapberries Edible? If So, what do they taste like?

The Compedium of Materia Medica states that soapberry flesh has a bitter taste, and that its seed is the only edible portion, but it must also be noted that raw soapberries contain traces of poisonous acid. All of our soapberry cleansing products are made from the flesh of the soapberry, but due to our multiple biotech process which gets rid of all the toxins, if any of our products were to be accidentally ingested all we'd recommend is that you drink lots of water and not be concerned.
CAN I ACHIEVE THE SAME RESULTS IF I USE RAW SOAPBERRIES INSTEAD OF YOUR PRODUCTS?

Raw soapberries contain traces of toxic fructose acid; therefore, they must go through several stages of bio-tech treatment before they can be safely used. Also, the saponins and other valuable nutrients can only be released from the soapberry by our patented fermentation process.
WHAT IS THE PH VALUE OF SOAPBERRY?

The pH value of a soapberry ranges from 3.8 to 5.1, which is very similar to the pH value of human skin, which averages between 4 to 5.5. Because of this similarity, you'll find our soapberry products are very mild to your skin. Consumers can easily test the purity of any our product by using pH test strips which are readily available at most drug stores.
DO YOUR CLEANING PRODUCTS CONTAIN SOAP?

No, our cleaning products do not contain soap which is made from animal fat and other synthetic chemicals. Our signature ingredient "SAPONIN" contains naturally occurring hygienic properties which sanitize and help build a strong barrier against harmful bacteria. Our cleaning products are the truly all-natural alternative to soap-based products.
WHY ARE YOUR PRODUCTS NOT USDA ORGANIC CERTIFIED?

In order to become certified "organic," the USDA requires documentation relating to the use of chemical fertilizers and pesticides on the farm lands from which you are harvesting. Since most of the soapberries we use in Seed Legend products are grown and harvested in the wild, it isn't possible to meet this requirement. In fact, our products are much more organic than the most commercial products. 
WHAT ARE THE DIFFERENCES BETWEEN YOUR PRODUCTS AND OTHER ALL-NATURAL PRODUCTS CURRENTLY ON THE MARKET?

Unlike mass produced products sold in big chain stores, our products are hand-crafted in small batches. While most all of these other alleged "all-natural" products contain artificial chemicals; ALL Seed Legend products, with the exception of our Wonder Butter (which contains petroleum jelly) are 100% free from synthetic ingredients which makes us a truly unique brand in the organic market.
WHY DO YOUR PRODUCTS COST MORE?

The short answer: the finest ingredients and time. Every Seed Legend product is packed full of precious saponin which is extracted from soapberries. In fact, in order to obtain the amount of saponin that goes into each 1L bottle of Seed Legend Restoration Foaming Shampoo, 3 lbs. of soapberries are required! Another major production expense is the fact that it takes 180 days to complete the saponin extraction and fermentation process. We use the world's finest ingredients in their simplest form (most of our products contain six ingredients or less) which is done to ensure that our clients are getting the utmost from truly natural sources. Every all-natural drop of Seed Legend products represents the wisdom and power of patience, our undying passion for quality, and our unending love and concern for the planet.
WHAT IS THE SHELF LIFE OF SEED LEGEND SOAPBERRY PRODUCTS?

Our packaging lists an expiration date of 3 years after opening, but, in reality - our products last much longer than that. Due to our patented fermentation technology used during production, all of our products are naturally preserved in a manner similar to wine and actually get better with age!
WHY DO I SEE SEPARATION LAYERS IN SOME OF YOUR SOAPBERRY PRODUCTS?

Some of our products contain coconut oil which can solidify at low temperatures. If products are stored below 40°F, the coconut oil may separate from the soapberry syrup. All you need to do is simply shake the container to remix the ingredients before each use, and don't worry; this will have no effect on the product's performance.
WHAT IS THE RECOMMENDED TEMPERATURE FOR STORING YOUR SOAPBERRY PRODUCTS?

The ideal temperature to store our products would be between 68°F - 86°F.
WHAT SKIN TYPES ARE SOAPBERRY PRODUCTS GOOD FOR?

Our soapberry skincare products have an average pH balance similar to that of human skin; consequently, they are safe and effective for all skin types.
WHAT HAIR TYPES ARE SOAPBERRY PRODUCTS GOOD FOR?


Our gentle soapberry shampoo is safe and effective for all hair types, and is color and keratin-safe.

ARE THE PRODUCTS INTERCHANGEABLE? FOR INSTANCE; MAY I USE THE BODY WASH ON MY HAIR?

If you happen to exchange one product for another, it wouldn't cause any harm. But, remember each product is created with a saponin extract/essential oil ratio formulation specifically designed for certain body parts and conditions.

I JUST TRIED YOUR SOAPBERRY SHAMPOO AND MY HAIR FEELS A LITTLE DRY. IS THIS NORMAL?

Your hair may experience a little dryness after the initial cuticle cleansing, but this will diminish as you continue to use the product.
WHY DO SOME PEOPLE EXPERIENCE SKIN IRRITATION, DRYNESS, AND BREAKOUTS AFTER USING SOAPBERRY PRODUCTS?

What they're experiencing may be the renewing and detoxifying process where dead cells are eliminated new healthier cells are created. After regular, continuous use this will resolve itself
.
ARE YOUR SOAPBERRY PRODUCTS SAFE FOR KIDS & BABIES?

All of our soapberry products are gentle and hypoallergenic; consequently, they are safe and effective for your little ones; especially those who suffer with eczema or frequent skin rashes.